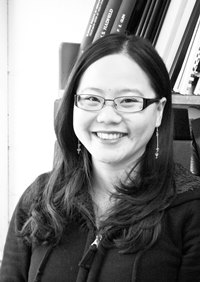 2013 – present – Associate Professor, Reader in Chemistry, Heriot-Watt University.
2007-2012 – Lecturer in Chemistry, Heriot-Watt University.
2006-2007 – Lecturer in Organic Chemistry (fixed-term), University of Edinburgh and research with Prof. David A. Leigh.
2004-2005 – Lindemman Trust Research Fellowship at Boston College, USA, under the guidance of Prof. Amir H. Hoveyda and in collaboration with Prof. Richard R. Schrock (MIT).
2000 – 2003 – PhD in Chemistry under the supervision of Prof. Steven V. Ley, University of Cambridge. Funded by ORS Award, Cambridge Commonwealth Trust and AstraZeneca.
1996 – 2000 – MSci (Hons) 1st Class in Natural Sciences (Chemistry), Selwyn College, University of Cambridge. University Emeleus Prize (2000).
ORCID ID: http://orcid.org/0000-0001-9067-8664
Web of Science Researcher ID: A-7878-2010
Contact:
Dr Ai-Lan Lee
Institute of Chemical Sciences
William Perkin Building
School of Engineering and Physical Sciences
Heriot-Watt University, Edinburgh
EH14 4AS, United Kingdom.
Tel: +44 (0)131 4518030
Email: A.Lee@hw.ac.uk
Room Number: WP 1.21
Recent and Upcoming Talks
University of Edinburgh, 19 April 2023.
John S Fossey Memorial Symposium, Birmingham, 29-30 March 2023.
Organic Division of the Norwegian Chemical Society's 25th Organic Chemistry Fall Meeting, Oslo, 21 October 2022.
University of Cambridge, 8th Sept 2022 (cancelled due to flight).
2nd RSC Synthesis in Drug Discovery and Development, 4-5 May 2022
Women in ScotCHEM working across boundaries, 8 Mar 2021.
Catalysis Hub Webinar, 22 Feb 2021.
Leigh Group 30th Anniversary Symposium, Manchester, 12-13 Dec 2019.
University of Bath, 10 Dec 2019.
Evotec, Abingdon, 9 Dec 2019.
University of Cardiff, 11 Nov 2019.
University of Sussex, 8th May 2019.
9th Joint CSJ RSC Symposium: Designing Molecular Function at the Nano-Scale: Catalysis, Materials and Supramolecular Chemistry, , RSC Burlington House, London, 1st October 2018.
University of Lancaster, 27th September 2017.
EPSRC UK National Mass Spectrometry Facility 30th Anniversary Symposium, 10th July 2017, Swansea.
University of York, 17th May 2017.
23rd RSC Lakeland Symposium on Heterocyclic Chemistry, Grasmere 4-8 May 2017
University of Southampton, 12th December 2016.
Queen Mary University of London, 9th December 2016.
University of Durham, 23rd November 2016.
2nd NSFC-RSC International Symposium on Emerging Frontiers in Organic Synthesis, Royal Society of Chemistry, Burlington House, London, 17-18th October 2016.
7th Biennial 'Celebration of Organic Chemistry' Symposium, Syngenta, Jealott's Hill, 19-20th September 2016. Organised by Syngenta and the SCI Fine Chemicals Group.
5th UK-Japanese Symposium on Asymmetric Catalysis, University of Manchester 14-15th March 2016.
AstraZeneca, Macclesfield, 18th November 2015.
GSK Emerging Academics Symposium (Returning Speaker), GlaxoSmithKline Research Centre, Stevenage, 20th Oct 2015.
Organic Chemistry Young Investigator Workshop in Aveiro, Portugal, 9th-11th July 9-11 2015 (Selected as UK representative) – pulled out due to illness.
St Andrews University (EastChem Colloqium), 22nd April 2015.
RSC Heterocyclic & Synthesis January One Day Meeting, London, 9th January 2015.
University of East Anglia, 10th December 2014.
Heriot-Watt University, 21st November 2014.
University of Oxford, 30th October 2014.
Gregynog Synthesis Workshop, 12-14th Sept 2013.
RSC, ACS and GDCh "Transatlantic Frontiers of Chemistry" (TFOC) 2013, Kloster Seeon, Germany, 8-11 August 2013.
University of Otago, New Zealand, 26th July 2013.
University of Strathclyde, 10th April 2013.
University of Manchester, 31st October 2012.
RSC ISACS 7 (International Symposium on Advancing the Chemical Sciences) – Challenges in Organic Chemistry and Chemical Biology, Edinburgh, 12-15th June 2012.
University of Sussex, 15th Feb 2012.
Gregynog Synthesis Workshop, 24th Sept 2011.
OMCOS 16 (16th IUPAC International Symposium on Organometallic Chemistry Directed Towards Organic Synthesis), Shanghai, July 2011.
Young Chemists 2011, Imperial College London, 1st April 2011.
39th RSC Scottish Regional Meeting of the Organic Division, University of Edinburgh, 15th December 2010.
GSK Young Academics Symposium, GlaxoSmithKline Research Centre, 22nd October 2010.
Gregynog Synthesis Workshop, Sept 2010.
University of York, 12th May 2010.
Pfizer Spring Symposium, Pfizer Global Research, Kent, 22nd April 2010.
University College London, 17th Feb 2010.
Queen Mary London, 8th Dec 2009.
6th Singapore International Chemistry Conference, 15th-18th December 2009.
University of Leeds, 28th Oct 2009.
Eli Lilly, 6th Oct 2009.
Gregynog Synthesis Workshop, 13th Sept 2009.
21st International Symposium: Synthesis in Organic Chemistry, Oxford, 20-23rd July 2009 (Invited poster, Pfizer Bursary).
19th Lakeland Symposium, RSC Grasmere Meeting, 7th-11th May 2009.
University of Nottingham, 11th Feb 2009.
University of Aberdeen, 5th Nov 2008.
Gregynog Synthesis Workshop, 28th Sept 2008 (Tom Lee Bursary).
36th Scottish Regional Meeting of the Organic Division of the Royal Society of Chemistry, Glasgow, 19th Dec 2007.
Advisory Board
Advisory Board of RSC's flagship journal, Chem. Sci. June 2019-present.
Teaching
Postgraduate Teaching: We hold (joint) weekly meetings alternating between research presentations, literature presentations and problem-solving sessions. Ai-Lan is also on the Management/Teaching Committee for EPSRC Centre for Doctoral Training on Critical Resource Catalysis (CRITICAT), and taught on Pd- and Au-catalysis within this programme.
Undergraduate Teaching: Ai-Lan holds a Postgraduate Certificate in Academic Practice and is a Fellow of the Higher Education Academy. She is passionate about teaching and regularly implements modern innovative teaching methods in order to improve the student experience through interactive learning approaches. She received the Pandemic Teaching Hero Award by Heriot-Watt University in 2021 and was also shortlisted for the Students Union Oscars for "Innovation in Teaching and Assessment" 2021 and "Pioneering in Education Global Teaching Excellence Award" for the inaugural "Celebrating our People Awards" at Heriot-Watt in 2022.
Current lectures courses:
Year 4/5 "Transition Metal Catalysis and Main Group Elements in Synthesis " – Semester 1
Year 3 "Organic Reactions", "Retrosynthetic Analysis" and "Physical Organic Chemistry" – Semesters 1 and 2
Year 2 "Retrosynthetic Analysis" and "Alkyne Chemistry" – Semester 2
Previously also lectured Year 1 "Introductory Organic Chemistry"
Outreach lectures: "Chirality in Molecules". Tutorials, workshops, laboratory demonstrating and mentoring for Years 1-5.
Teaching Administration:
Organic Chemistry Teaching Coordinator (2016-present).
MChem Study Director/Year Coordinator (2016-2021).
Programme Director for B1IM MChem (Hons) Chemistry with Industrial Experience degree programme (2008-2016).
External Examining:
2018-present: External examiner at University of St Andrews for undergraduate and postgraduate Masters degree programmes.
Regular examiner for PhD examinations in external institutions.