We are a synthetic chemistry and catalysis group based at the Institute of Chemical Sciences, Heriot-Watt University, Edinburgh.
News
April '21: Ai-Lan organises a virtual MChem Day for final year in house MChem project students on 29th April. Ana wins one of the well deserved "best talk" prizes on the day, voted for by MChem students. Many thanks to Charles River Laboratories for sponsoring the prizes.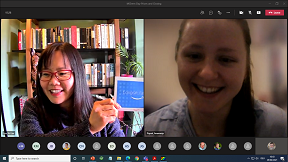 April '21: Congrats to Euan who passed his (remote) viva! Well done and well deserved!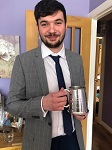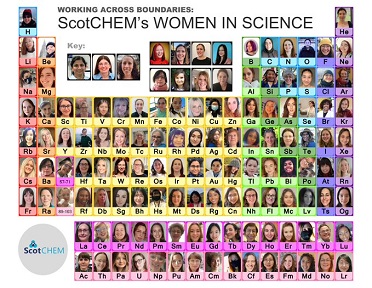 Feb '21: Ai-Lan gives a webinar at the UK Catalysis Hub. Chris was interviewed for Chem. Sci.'s 10th anniversary celebration. Read his interview here.
Jan '21: We welcome new PhD student David Kitcatt. Chris presents remotely at the 49th Annual RSC Scottish Regional Organic Division Meeting organised by Heriot-Watt and Chris also organises the Twitter poster session for the same event:
Dec '20:  Euan presents remotely at the Syngenta Collaborative Research Conference 2020.
Oct '20: We welcome new EPSRC/AstraZeneca iCASE PhD student David Mooney.
Sept '20: We welcome MChem project student Anamarija Pispek (jointly supervised with Prof. Stuart Macgregor) and BSc literature project students Ellen Barlow and Rebecca Blakeman.
Aug '20: Congrats to Euan, and recent MChem project students Francesca and Orla, whose work on "Selectivity Control in Gold-Catalyzed Hydroarylation of Alkynes with Indoles: Application to Unsymmetrical Bis(indolyl)methanes" has now been published in Organic Letters.
July '20: After over 3 months in lockdown, we are glad to report that Chris' new review on  "Heterogenous Photocatalysis in Flow Chemical Reactors" for a Beilstein J. Org. Chem. special thematic issue on "Advances in Photoredox Catalysis" has now been published online here.
June '20: Congratulations to MChem project students Ben, Olly and Orla who all (remotely) graduated with MChem (Hons) with the Perkin, AWE and Trikamadas Mangla Prizes respectively. Well done!
Mar '20: Massive congratulations to Chris who won a runner-up poster prize in #RSCEng at the 2020#RSCPoster Twitter Conference. Check out the prize winners here!
Feb '20: Chris' paper on polymer-supported BODIPY photosensitisers is now published online in a special issue of J. Flow Chem. here.
Jan '20: Congrats to Claire who successfully passed her viva!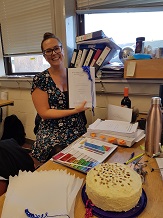 Jan '20: Euan and Chris present posters at the 48th RSC Scottish Organic Division Perkin Meeting at St Andrews (9 Jan). Congrats to Chris who picked up a runner-up poster prize!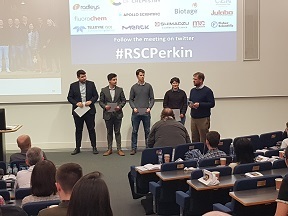 For news archive , click here.